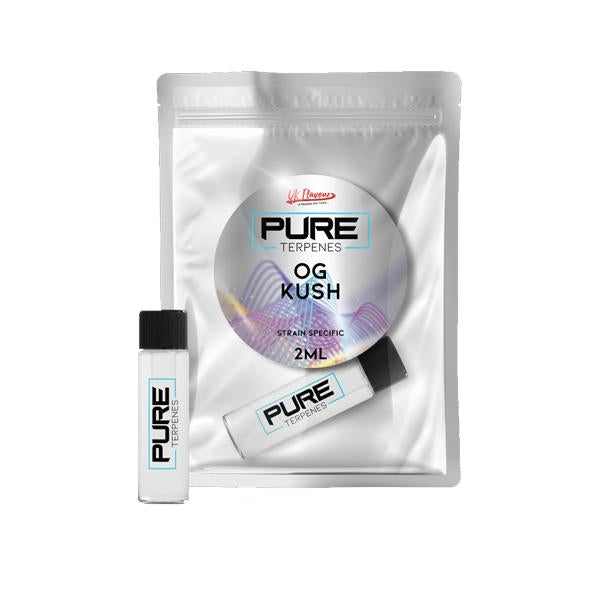 UK Flavour Pure Flavoured Terpens - 2ml
- Pure Flavoured Terpenes
- 2ml
Flavours:OG Kush:
OG Kush is a strain from Northern California which is crossed with a Hindu Kush plant from Amsterdam. The result was a hybrid with a unique terpene profile that boasts a complex aroma.
Fragrance:
Its aroma is pungent and fresh, with sweet notes, notes of Lemon and a touch of earthiness, diesel and spices.
Mango Kush:
The Mango Kush strain tastes similar to the actual mango fruit, with a distinct kush flavour and hints of pine on the exhale.
Fragrance:
It's a super fruity and tropical strain that tastes of none other than mango. It has hints of banana and earthy undertones for a super unique play on your tastebuds.
Grand Daddy Purple:
Grand Daddy Purple is a famous Indica cross of Purple Urkle and Big Bud. This California staple inherits a complex grape and berry aroma from its Purple Urkle parent.
Fragrance:
Sweet and citrusy, with earthy undertones that spark slight glimpses of grape and other juicy fruits with an exotic candy-like aroma.
Super Sour Diesel:
Super Sour Diesel is a heavy Sativa strain made by crossing Super Silver Haze with Sour Diesel.
Fragrance:
This strain has an intriguing burst of citrus and a combination of sweet, tangy herbs. Super Sour Diesel also features an undercurrent of pine and diesel.
Lemon Skunk:
Lemon Skunk was bred from two separate Skunk phenotypes that displayed exceptionally zesty lemon traits. The skunky, citrus flavour draws you in immediately
Fragrance:
It offers a strong lemon presence with a skunky scent mixed in with slightly earthy and sour notes.
Skywalker OG:
Skywalker OG is a potent Indica-dominant hybrid strain. This terpene is a cross between Mazar x Blueberry and OG Kush and has the strong aroma characteristic to kush strains that includes a spicy herbal scent tinged with jet fuel. This strain makes relaxation your only mission
Fragrance:
Skywalker OG's smell is very earthy, with a hint of citrus and pungent fuel coming through. In many ways, the strain has the stereotypical "dank" smell people generally associate with cannabis
Bubblegum OG:
Bubblegum OG is a classic hybrid strain made by crossing Indiana Bubble Gum with OG Kush Indica strain. Marked by sweet and fruity flavours.
Fragrance:
The aromas are a tasteful symphony of wild berries, contributed by a distinct sweetness, and lemon-like, slightly sour flavours from OG Kush. This aromatic blend also has some oriental spices in it.
.
Ingredients:
UK Flavour Pure Terpenes are created using 100% natural & food-grade ingredients.